2019 Bull Sale
We take great pleasure in extending an invitation to our sixth annual Dunlop Santa Sire Sale to be held at 'Jingeri' on
Saturday 7th
September 2019.
Pre-sale inspections are welcome.
If you would like to request a posted catalogue you can contact us here with your information and we can send you one directly.
This year we offer 100 rising 2 year old bulls from 23 sire lines.
While we do single sire mate several mobs of cows, we believe that our multiple sire herd is a great strength. Due to the size and topography of many paddocks, along with the availability of surface water, multiple joining of larger mobs is more practical than single siring. This also creates a form of natural selection with the most active bulls getting the majority of the calves. There are sires used in the multiple herd that were purchased for prices in excess of $20,000. These bulls are also the sires of many of the females that may be recorded as having multiple parentage. The bulls in the sale are sire verified through DNA testing.
SALE INFORMATION
7th September 2019
12 noon
On-Property, "Jingeri" Proston
DOWNLOADS
2019 Supp Sheet
2019 Catalogue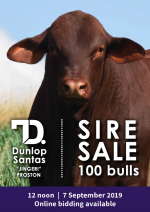 Sales Agents:



Check out detailed information for all our lots below