2013 Bull Sale
Inaugural Dunlop sale averages $4897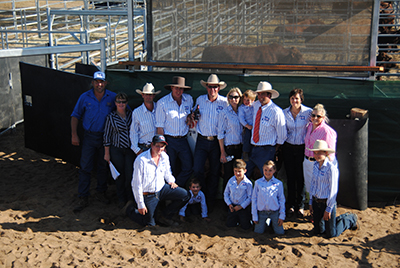 Story: Kent Ward
Sale summary
– 68 bulls av $4897 – top $14,000
– 98 percent clearance
A massive vote of confidence for the breeding policies and the phenotypes on offer was apparent at the inaugural Dunlop Sale, Proston, in September.
Seventy-four intending purchasers filled out bid cards that resulted in a two state buyers panel and a very consistent market place for the predominately oats prepared offering.  Dissecting the catalogue showed that the classified category averaged $5321 and the purebred segment averaged a healthy $4211.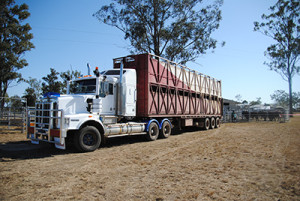 Vendors, Scott and Rebecca Dunlop saw their classified products reach a $14,000 high while purebred commercials hit $8000 on the way to a 97 percent clearance and a bottom line medium of $4897.
Matt and Rachel Windrum, Gralyn Stud, Monkerai, NSW claimed the proceedings market topper in the form of the $14,000, Nebo (P). Weighing 904kg with a 135EMA and scans of 13/12mm coupled with a gain of 1.22kg/day the 23-month-old double sided poll by Dunlop Highlander (Waco Landlord) is from a Yarrawonga Merchant (P) female.
Clark and Tait, Mantuan Downs, Springsure selected the $10,000 Nackers (24-months) a 848kg, 130EMA son of Diamond H F85 (Cumberland Paloma). The two-year-old Nashville (Hardigreen Park Landmark) with a liveweight of 842kg and a 125EMA sold to the Spean Pastoral Company, Spean, Esk. Spean Pastoral ended with a pair to average $7750.
John and Vicki Howard, Burleigh Estates, Biloela took home two averaging $7500. Top of their selections was the $8500 22-month-old Neo (P) (Diamond H J201) gaining 1.110g/day and boasting a EMA scan of 117.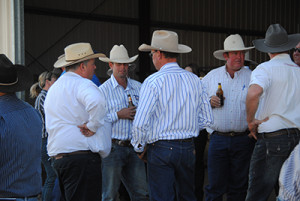 Shaun and Mindy Durdin, Heathwood, Springsure selected the $8000 Nockatunga (23-months) a 822kg son of the retained Dunlop Jumbuck (Santa Park Sangster). Their other $8000 entry was the top selling purebred commercial entry a 23-month-old, 908kg son of Hardigreen Park Landmark. Durdin's picked up a trio averaging $7334.
Leon Franz, Franz Pastoral Company, Manumbar selected the day's second top purebred entry. At $7000 the 866g, 25-month-old by Diamond H G209 scanned a 132EMA and gained 1.10kg/day.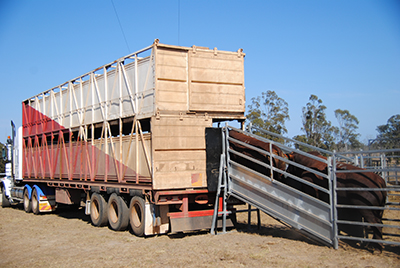 Richard, Julie and Carla Grimes, Corrunovan Cattle Company, Boondooma signed off on four to average $3500 while Greg, Gail and Lachlan Menzies, Jaletto Pty Ltd., The Bend, Taroom ended with a trio to average $4833 topping at $6500 for sale opener Nero (22-months) (Waco Scrouge). Owen Bassingthwaighte and family, Yabba Pastoral Company, Kilcoy accounted for four to average them $3375. Picking up three herd bulls to average $5000 where the David, Sharon, Glen and Leisel Jenkinson, Hawkwood, Mundubberra with Springsure producers, Tresswell Cattle Company also picking up three to average them $3883.
Ross, Yvonne and Garth Christiansen, Campo Santo, Taroom were active taking six for on average $4417 topping at $5500 for a 22-month-old poll boasting a Highlander/Merchant pedigree. Bollon based Woolerina Grazing operated by Andrew and Lauren Winks were another in the buyer panel taking four to a high of $4500 to end with an average of $3500. Scott and Julie McGuigan, Nedyah Cattle Company, Thangool took three to average $5334 topping at $6000.
Agents: Shepherdson & Boyd and Ray White Livestock Sales Management
---