Our Past Sales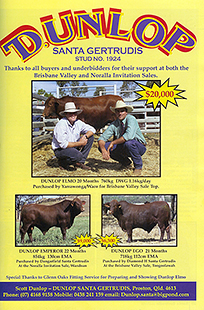 While 2013 was our first on-property sale, Dunlop Santa Gertrudis has been selling bulls since the 1990s at multi-vendor sales including Wandoan, Brisbane Valley and Santa Central. Whilst we have enjoyed great successes at these venues, we feel that we now have enough high quality bulls to host our own sale.
Our past sale highlights include:
Dunlop Kalahari for $28,000 and Himalaya for $15,000 to the Dangarfield Stud, Taroom
The $22,500 Dunlop Fraggle to the Yugilbar Stud, NSW
The $19,000 sale of Freestyle to Yarrawonga Stud in the same year as the $19,000 Fahrenheit to Watasanta Stud, NSW.
In 2004 we sold the $20,000 Elmo sold to Yarrawonga Stud and the $26,000 Donk sold to Dangarfield Stud
Repeat buyers of larger lines of our bulls is possibly more satisfying, they've gone to areas such as Stonehenge, Richmond, Julia Creek, south of Birdsville and places closer to home such as Taroom and Kilcoy.
---
Bull Sale 2015
Our third annual Dunlop Santa Sire Sale took place at 'Jingeri' on Saturday 5th September 2015. On offer were 73 Santa Gertrudis Bulls. The average sale was $6,993 and top-price sire, Dunlop Palatable (P), sold for $24,000.
---
Bull Sale 2014
Our second annual Dunlop Santa Sire Sale took place at 'Jingeri' on Saturday 6th September 2014. On offer were 76 Santa Gertrudis Bulls (48 classified, 26 polled) and 4 Red Brahman Bulls (incl 1 pink nosed poll). The top-price sire Dunlop Orgasmic (PS) sold at $24,000.
---
Bull Sale 2013
Inaugural Dunlop sale averages $4897
A massive vote of confidence for the breeding policies and the phenotypes on offer was apparent at the inaugural Dunlop Sale, Proston, in September.
Seventy-four intending purchasers filled out bid cards that resulted in a two state buyers panel and a very consistent market place for the predominately oats prepared offering. Dissecting the catalogue showed that the classified category averaged $5321 and the purebred segment averaged a healthy $4211.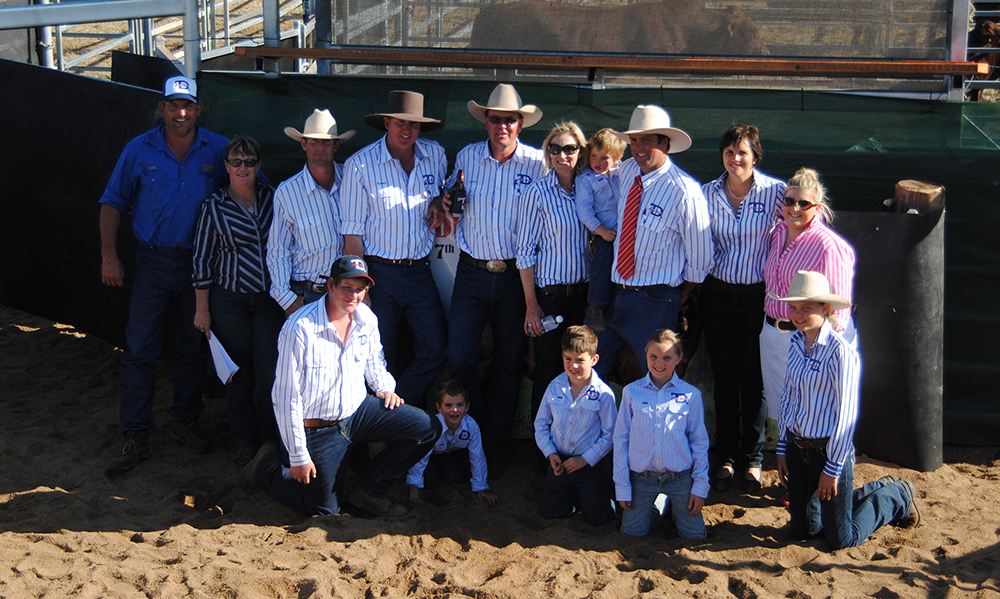 ---